A Rocky Road recipe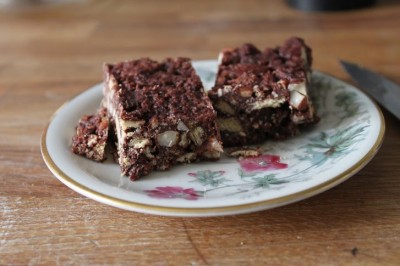 Have you ever had Rocky Road? It's a yummie cake of chocolate and biscuits and a lot of other good stuff. When I was a kid, my brother used to love to make a variant of it, which was the only thing he really wanted to make – and since we've gotten older, I kept the recipe and now I'm constantly changing it.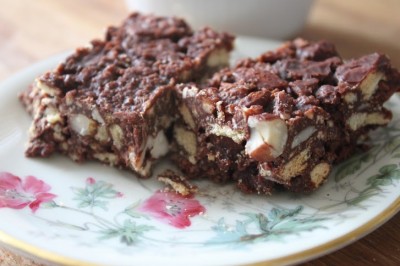 It's quite simple – basically, you need enough chocolate mixture to cover all the fillings, which makes it stick together once cooled down. You can chuck just about anything in there, if you feel it would be good in the mix!
The original recipe we had is almost like the one below – it is just  a bigger batch, with 100g butter and 200g biscuits, but I like it better with more of the good stuff in it!
My most recent one was made with approximately these ingredients:
50g of (salted) butter

2 tbsp syrup (if you like it a bit sweeter, add a bit more!)

100g dark chocolate, in pieces

100g biscuits of your choice, crushed  (I used plain ones, 2 different kinds)

50g assorted nuts, roughly chopped (I used hazelnuts and almonds)

30g raisins

optional: mini marshmallows
In a little pot, heat butter and syrup until hot and melted. Take the pot off the stove, add the chocolate in pieces, and stir until the chocolate is melted.
Add all the dry ingredients, and mix well – make sure every surface of your fillings is covered!
Pour the mixture in a square tin or other container, and set to cool for about 4 hours. Cut into pieces, and eat it straight away :)
It keeps best in the fridge, so the chocolate mixture doesn't melt again.