Aileron the Second
When I a couple of months ago received the yarn to start designing this shawl, there was a choice between 9 different colors. Seeing the package I opened, can you imagine how hard it was to make a choice?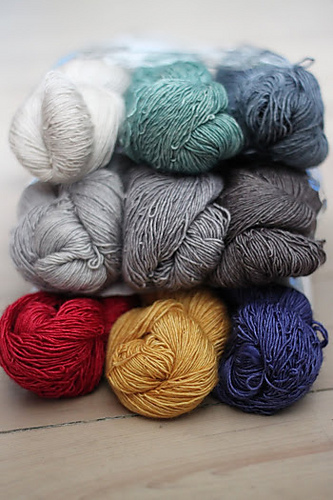 Not only is the yarn divine (Juno Fibre Arts Milly Sleek Singles, 70% Merino & 30% Silk, 400 m / 100g), but the colors were beyond what I had imagined.
I ended up making a choice, but then I also chose another combination. And another. All three combinations (and more!) are available as kits from the Juno Fibre Arts booth at Unwind Brighton in a little less than a month's time.
For the past weeks, I've been busy knitting up more samples. The first you've seen, the original sample when I presented this design, was Glimmer + Geranium (that's the far right on the middle row + far left on the bottom row).
The second one is Luna + Sapphire (middle row far left + bottom row far right), which is now done, blocked, and photographed. The third one is Old Gold + Ashes (bottom row mid + middle row mid), which I'm still working on.
Why I chose to use the ones in the middle and bottom rows only is a mystery – but that's just how it worked out this time!
Here's a look at Aileron in Luna + Sapphire: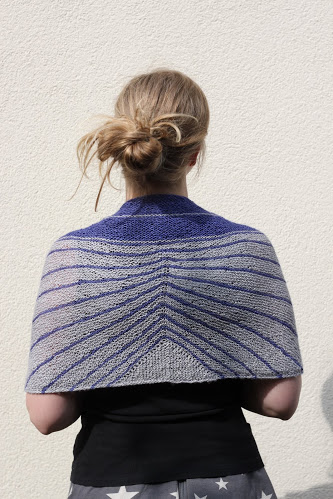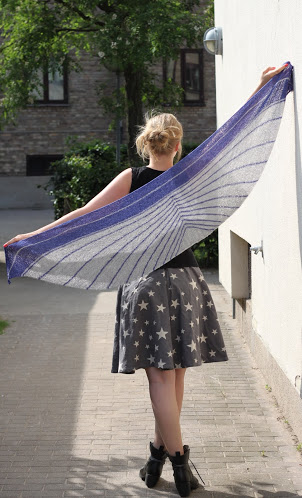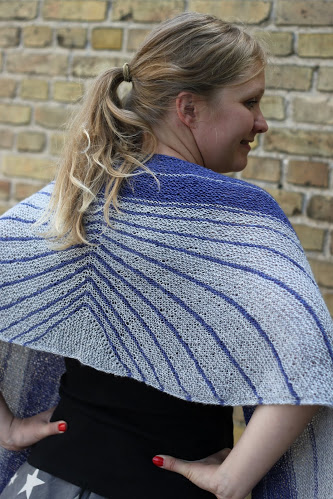 The second time around it was still so much fun to knit this shawl!
And I can already tell you that the third time is no less fun. This comes from someone who rarely knits the same pattern twice. Well, with certain exceptions, I guess…