All cabled up
Every summer, there is the Tour de Fleece (TdF) on Ravelry – the 3 weeks when the Tour de France is on TV, spinners around the globe spin accordingly.
Well – this year I couldn't join, as I had been so clever (!) to put my 3 week road trip in those exact 3 weeks. When I realized it, I was a bit sorry – and when I got back I was even more sorry, seeing all the merriment people had had on Rav!
So I guess you'll understand my urge to spin something straight away.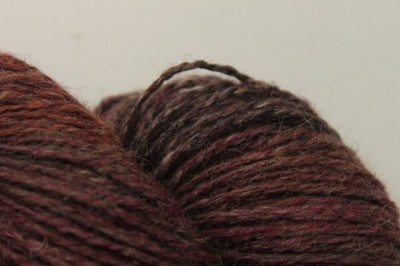 I chose a fiber that has been in my stash for a while: Hilltopcloud Shetland/Merino/Seacell 65/25/10, in the colorway "Mellow Fruitfulness". It was a lovely gradient, which had already been divided into 4 portions when I got it. So why not spin it and ply it so it would keep the colors? It would become my first 4-ply.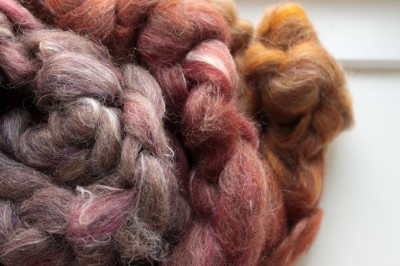 I started spinning, while thinking about the final yarn – and along the way, realized that as I only have 3 spaces on my lazy kate, I would have to think up an alternative place for the 4th bobbin while plying. It has never been an issue for me to be inventive, but I then and there decided it could be done another way: I could ply 2 singles together, so I would get 2 2-ply yarns, then ply them together in the opposite direction again. And so I did!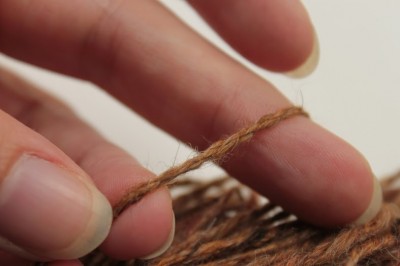 Look how pretty the cabled yarn is? It does something special to the yarn, I think. This definitely needs more experimenting with.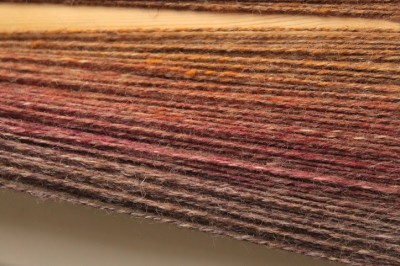 I kept the lovely gradient, as I wanted!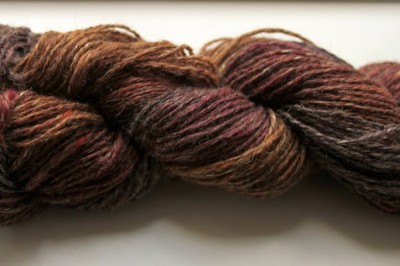 I need to think up something to use the yarn for. It's sturdy and dense, the meterage is a lot less than I usually would aim for (186m on the 95 grams), but the yarn weight (WPI) suggests it's just about sport weight. It would become some lovely socks, only they would be very different colors. I think I'm just going to think about this one!
And you know what? I was just in time to enter a SAL (spin-a-long) in the Danske Spindere group on Ravelry, with the theme "Solens Rige" (~ "Kingdom of the Sun" or the like). I didn't win anything, but it was great to be able to participate with something somewhere :)