B-day celebration
This weekend I celebrated my b-day with my family. It was a very lovely weekend, with cake, of course: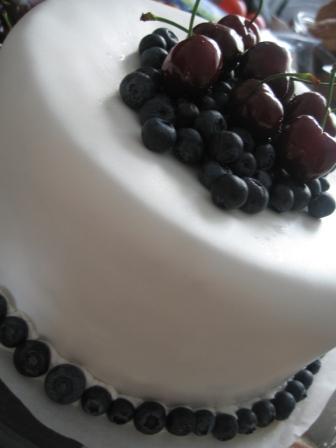 Cake facts:
The usual cake layers
One layer of rhubarb fromage
One layer of chocolate mousse (with a lot of chocolate!)
Buttercream icing with lots of white chocolate in it
White fondant
A bit of royal icing and a border of blueberries – and lots of blueberries + cherries on top.
What I got for my b-day this year:
heart shaped medallion with pictures of my lovely girls in it
gift certificate for a plane cockpit visit
gift certificate to LYS Sommerfuglen
money to use on any hobby I like (I have already ordered some knitting needles, some yarn, and some espresso stuff)
knitting book about fair isle (changed for a book about knitting edgings instead)
a cup holder for my bike
a chocolate flower (that smells like chocolate)
a fleece blanket with strawberries on it – to use when picknicking in the desert
a thermometer for when I'm frothing milk on my beloved Gaggia
a knock box, also for Gaggia, which is still in the making..
and of course a lovely bouquet of flowers from mom's garden
Pics of some of the gifts: