Dubai 1.0
It must be time for some Dubai updates!
Now I've been here for 5 full days, and I'm getting used to it! The weather has become a bit cooler than when I arrived, so now it is about 30 degrees Celsius. That's not really cold, but when the sun is gone and it rains a bit once in a while (which apparently is very odd for this time of year!) it feels like typical Scandinavian autumn weather. Except for the actual temperature, that is..
Dubai has a very different culture from my beloved Copenhagen. It's nothing bad – I actually like the Dubaian culture a lot! But it still requires some getting used to.
For instance the not touching people like we do back home. You are not allowed to be very lovey dovey here! Also, the way you dress. I'm still not sure what is actually required when, but until now it looks like I haven't offended anyone yet, so it must be alright..
People behave a bit different, too. Mostly they're very friendly and smiling, but once in a while there is someone who seems annoyed / in a bad mood. It's nothing you take personally, though, it is easy to forget again.
On Sunday I'm going to meet up with some Ravelry ladies, and I'm looking forward to it! It was really nice to be asked by one of them whether I'd fancy getting a coffee, chat and knit a bit, I feel very welcomed. Never thought that a knitting community like Ravelry could help me settling in at the (almost) other end of the world!
What I have been doing the past days:
Day 1: Visited the office, seen the Mall of the Emirates (the one where you can ski) and seen the Dubai Mall. That last one is HUGE! I knew it was – but it is actually 1km wide at one point :o/ There is a big big aquarium with really really many fish. AND a little football field, and an ice skating range. There are all kinds of shops you can imagine, and it is not hard to get lost in there!
Day 2: I spent the day relaxing a bit, swimming in the pool and relaxing some more..
Day 3: Looked at houses. In Springs, all houses are identical. There are different types (depending on how many bedrooms, whether it is an end house in a row or has a back to back "view", etc.), and that gives an idea of the price. But the real difference would be how it is maintained – is the garden nice, or is it just a desert? Is it a huge mess inside, or does it look alright? Furthermore, of course the location (close to the swimming pool, a lake view, road view etc.) has an influence as well.
In the evening, we went out to eat at an italian restaurant, which apparently has the best pizzas in town. I can only agree – those pizzas are yummie! The restaurant was at the "foot" of the Palm, which you can see on a map of Dubai. Not really possible to see that there is a palm there, though, when you're sitting there!
Day 4: Worked remote. It was actually very nice to be sitting at home, working, and being able to go outside in the sun for a 5min break. Working from home works just like sitting in the office for me :o)
We dined outside at Shakespeare's in the local town centre. Nice place, with cosy chairs and a bit of collected furniture (a little bit like Tante T back in CPH). After the meal I found out that they have a whole tea salon inside, which is decorated in a very girly way – pretty cakes, lots of books (decorated with ribbons!), and real study furniture as you see in movies – arm chairs etc. My girls at home would love that, I'm sure!
Day 5: Worked remote. Drove to the town centre at about 17.30, as the cleaning lady came by (with a little dog which wants attention all the time, and is pretty annoying – I had to get out of there!). Got a mocha frappuccino at Starbucks, checked out the Zen yoga studio in the town centre and bought some necessities in the supermarket. It starts feeling a bit like home now!
Dubai facts from me:
Money: One Dirham is appr. 1,5 Danish Krone.
You can't really get around without a car. There's almost no public transportation, and it is life threatening to ride a bike anywhere.
All cars have automatic transmission. No driving with a stick here! Instead it feels like you're driving around in a little bumper car..
In Springs, there is a speed bump at like every 100m. Very nasty ones – unless you drive at a speed of 20km/h or less it feels like you're flying (in the not so nice way).
The sun sets at about 19.00, so after that it's actually getting dark. Every time I think of Danish summer evenings – but then it also feels like it's already 22.00 or something, so that's kinda wrong :o)
Waking up at 8.00 in the morning is like waking up to a full bright day – I automatically feel like I've been sleeping in. So I don't have a hard time getting up at that time of the day..
The sunshine makes me in a good mood!
And, some pictures: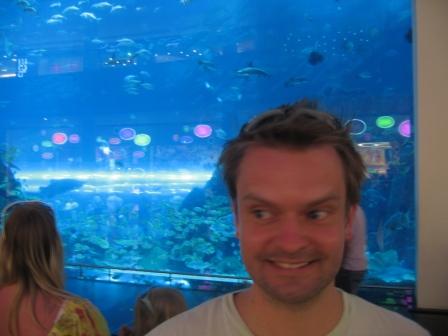 The aquarium in Mall Dubai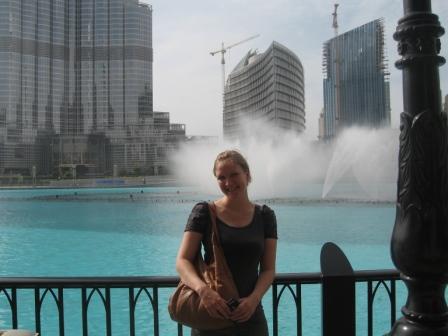 The fountains next to Mall Dubai and Burj Dubai. The last mentioned is in the left side of the picture.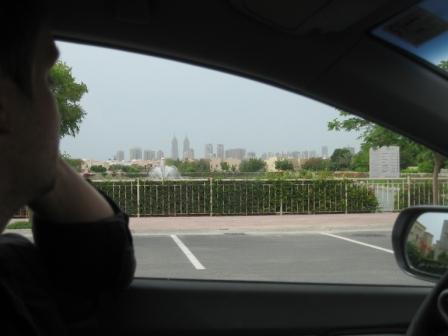 A view from the car. We're at a parking spot in Springs 4.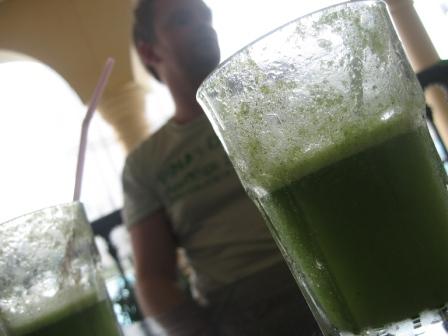 This green stuff is mint lemonade. It tastes like heaven!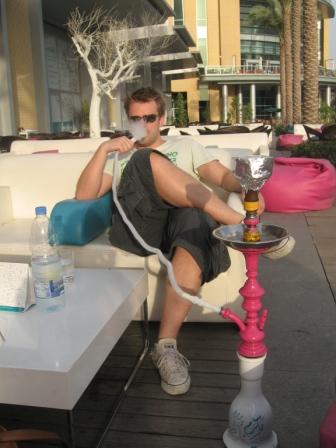 In a café, you can order a shisha. Either with a tobacco specified on the menu, or, as on the pic, the combination you order.