Dubai 2.1: Amiras meeting at MCC
This actually should've been my Dubai 2.0 post, as it happened before that and was the most fun part of my trip here so far. I was at another knitting meet-up at the Mirdif City Centre with the UAE Amiras! The perfect opportunity to show off our newly finished berets and chat aaaall day long. Time flies by when you're having fun, that was once more experienced by me!
We started out only 3, wondering where the rest was. Later we were joined by one more and two of the Abu Dhabi girls, who had a hard time finding the place..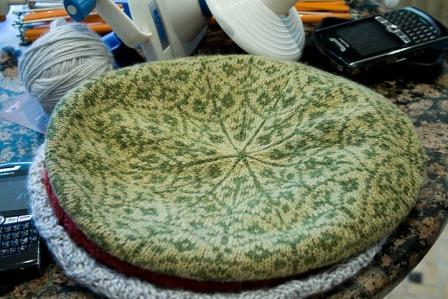 The stack of the 3 berets that arrived first..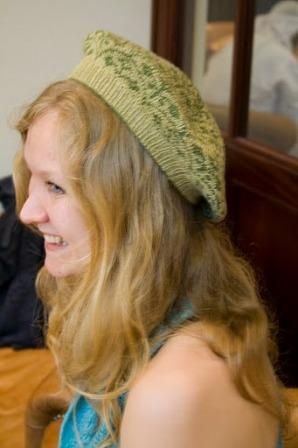 My Selbu "in action"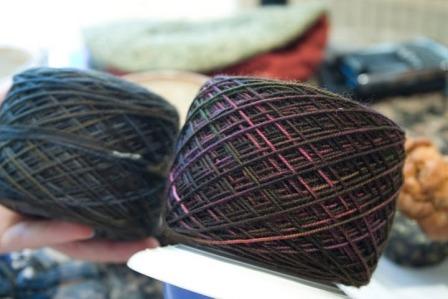 Jhocy had brought her swift and yarn winder, which was used. In the background my newly purchased Malabrigo Sock, in the foreground some Socks that Rock yarn of Jhocy's.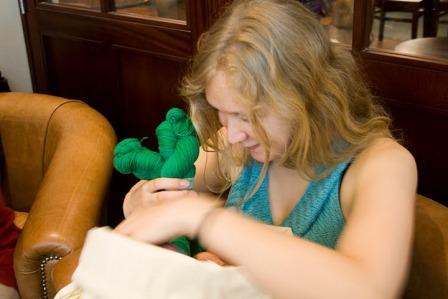 Me going in Jhocy's yarn bag. Lovely lovely handdyed yarn!
I looooved the color of this yarn – 80% lambs wool, 10% cashmere and 10% angora. The angora part was what made me doubt, even though I was heavily falling in love with the color.. And, I didn't know what to use it for. Who knows, perhaps I'll change my mind and call Jhocy to get it anyway!
I was having so much fun, so time flew by, and before I knew it it was already 7pm. I was supposed to go to the pool party at Nasimi Beach, but when I came home at 8pm I heard that it was crowded and people were drunk etc., so I reckoned I wouldn't really fit in. Too bad – just stayed home to knit, and to finish those socks of Caroline's.. (the funny thing is, even though it is a knitting meet-up, I didn't knit more than a couple of rows! Was just too busy chatting and admiring others' projects..)
Photo's courtesy of Jhocy and Hala (with Jhocy's camera)!