Dyeing with an e
During the last week, I suddenly got this urge to dye some yarn. I had the supplies already, and took the chance to re-dye some yarn I dyed a long time ago, using Kool Aid.
I loved the colors back then (1½ years ago). But now I rediscovered this yarn, and realized I don't want to use it as it is, as there is too much white in the colors, and they are too faded..
So I decided to try to steam dye, putting the soaked yarn in a plastic bag, adding some dye and steaming it above a pan with boiling water for about 40 minutes.
Notice how the water in the lower right corner of the bag is only a very pale green – the yarn has soaked up all the dye!
I just threw in a bit of green dye, and a little bit of blue. Not much. And I didn't squish it too much around, as I didn't want it to dye the yarn evenly. After all, these were sock blankets, so if I want it to be socks, a variegated yarn is fine.
The result of my dyeing is easy to spot:
Before: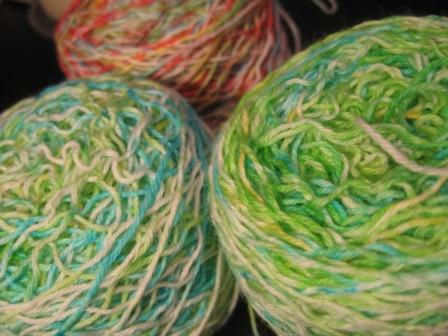 After:

I'm more content with the newer version.
I repeated it with the red version of the sock blanket as well, with the same amazing result. Now I really need to get on with sock knitting soon, don't you think?