Handspun knitting
I have fallen in love with spinning some of the most precious handdyed fibers out there – and I am mostly spinning just to see the resulting yarn. Like when buying yarn, people ask me what I am planning on doing with it – and I don't know! I just like to see the colors play up, and the difference between the original braid and the resulting yarn.
But once in a while I am spinning with a purpose. This time for a hat, a hat that has to match a coat and hair, and this braid looked perfect!
4oz of "Copper Mine" on BFL/Silk from Friends in Fiber.
Spinning it was fun and didn't take long!
There's 354m/120g of n-ply yarn there, which makes it ~295m/100g. Which makes it approximately heavy fingering/DK weight.
Which is.. Not heavy enough.
I needed worsted weight for this particular hat!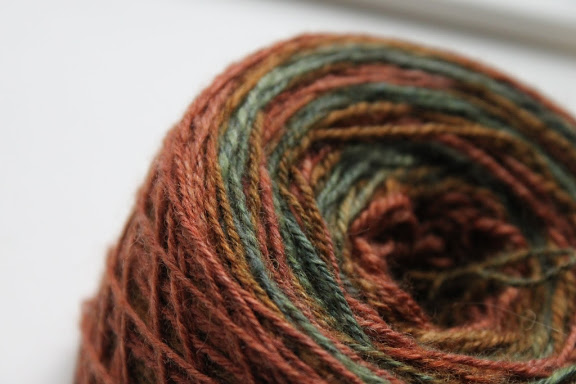 So after winding it up, I actually wound it off again into smaller portions, so I could hold the yarn double while knitting without muddling the colors up too much.
I think it's actually working!