Handspun socks
A finished knitting project to show off: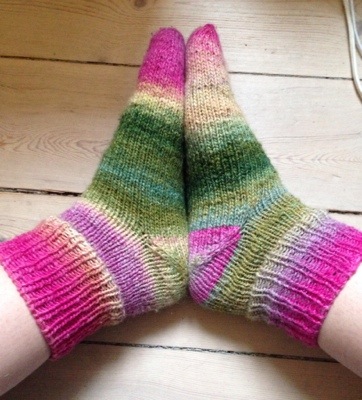 Back in.. (well, August I guess?) I spun some yarn with the purpose of knitting socks. It was a lovely braid of Falkland wool, dyed by Two if by Hand, which I received from a lovely friend from Brighton in a swap:
I spun it very thin, I thought, with the plan of cable-plying it. I divided the braid into 4 portions length wise, spun those up (clock wise), then plied them together 2 and 2 (counter clock wise), trying to keep the color sequence in check. There was a bit of cutting of the singles involved, in order to make the colors line up…
Then I plied the two 2-ply yarns together again (clock wise), again doing my best to make the colors line up. Some more cutting of the two plies happened, but in the end I got a perfectly gradient cabled yarn:
It was approximately heavy DK/worsted weight, 105 grams and 191 meters.
I just had to start those socks. I kept putting it off, partly because I was thinking I had other projects I needed to finish first, partly because I didn't really know what kind of pattern to use for them.
In the end, on New Years Day, I just cast on for plain vanilla socks, toe-up, planning on knitting until I ran out of yarn. I cast on from both ends of the ball, then I knitted and knitted, put in waste yarn for an afterthought heel in the right place, and knitted on… Until I remembered that hey, I would need yarn for those afterthought heels as well!
So I knitted on, daring myself to gauge correctly when I would reach the point where I had just enough for the heels.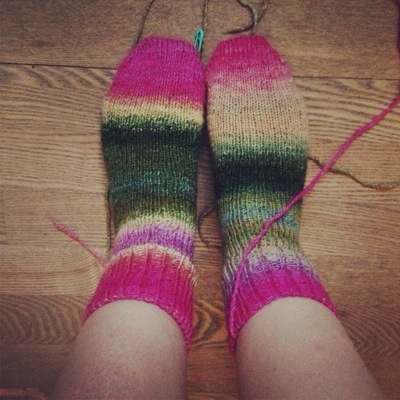 I cut the yarn to do a tubular/sewn bind off, and then did the heels. And, miraculously, I had quite enough for both! The ends on the pic are exactly what was left, a maximum of 30 cm for each end. I was kind of proud of myself for that ;)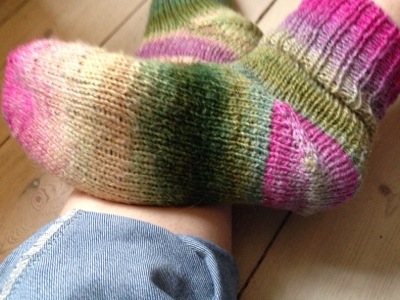 The afterthought heels were my first plain afterthought heels – simply decreasing 4 sts every other round. I'm not sure I like them, but that might also be because of the yarn weight – they are quite bulky, really. Perhaps the next time I should try out another afterthought heel type?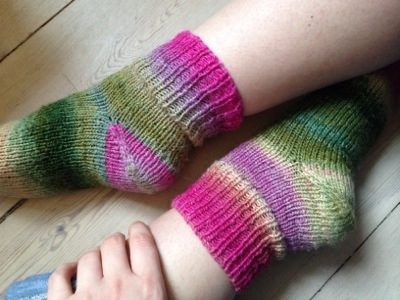 In any case, I'm happy with the finished socks. They're quite nice and warm, and I so very much hope that the cabled yarn will hold up a bit better than other handspun yarns… Like on the Biohazardal socks I made back in September 2012, that unfortunately ended up with holes quite quickly :(
More info on the specifics of these socks on the Ravelry project page!