Hygge-ugler
I have made a coffee cup cozy: Little warm owls in a tree.
It really is for the tea / coffee glasses I have bought in Dubai, the typical caffe latte glasses you see at the trendy café's.. So I don't really have a cup to show it on, as they are in Dubai. But you get the idea, right?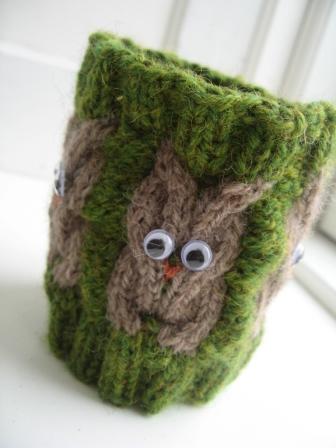 I have used Sabrina Thompson's coffee cozy pattern, as I kinda fell in love with the owl idea when I saw it. And it is so easy! It took me about 2 hours of knitting to get it done, even though I did do the stranded thing to make the contrasting cables work, which made me have to keep track of the stranding and I had to frog some rows once in a while because I hadn't thought ahead.
I do love the idea of the green background, so the little owls are sitting in a tree. A bit obvious, but I like it!