I've cheated
Hi all!
I must admit that ehm.. Sometimes I cheat. Like this once last weekend, when I was at a Christmas market, where old ladies were selling handknit items for far too low prices.
As I usually say it takes me in average a year to finish a pair of socks (might not be entirely correct, but it sure feels so!), I decided to treat myself to some handknit socks – knitted by a nice old lady! :)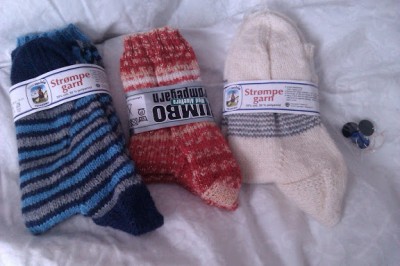 I got 3 pairs for DKK 200, which I think isn't too cheap, but still a lot less than they're worth. They are really really nice though!
Crappy cell phone pic, but I think you got the picture. The middle ones are sparkly, couldn't resist that! ;)
To the right, two pairs of earrings I bought there as well.