Knitwear design: A learning process
One way to become busy as a knitwear designer: Agreeing on a collaboration with a yarn company / dyer, sending them a sketch of your proposed design, and then it won't work out. Yeah.
The thing is, I've had the idea for this shawl in my mind for ages. And I was sure I knew how it should be done! So I got yarn support from an amazing Indie dyer, and I started working on it, convinced it would be easy peasy and done as soon as I was done knitting.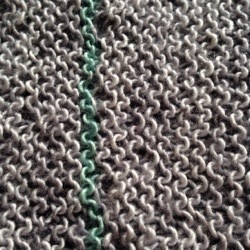 Well, think again!
I started the shawl over at least 4 times. Then I decided it was as it should be, and I just churned along, knitting up 2 skeins, before I decided to un-crumple the work (using quite short needles), and discovering it looked positively hideous.
Alright, starting over! This time with 2 other colors (I got quite a number of different colors from said dyer, lucky me!), and halfway through I ripped it all out and started over AGAIN. This time I was entirely sure it would work out like I wanted it to! So when I was done, even though there were some kinks in it, I was convinced that would go away with blocking.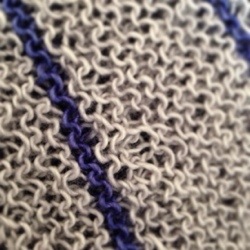 Did it? No!
I have started over for the 7th time now. In yet another color combo – luckily the yarn and the colors are so amazing that it's lovely to work with, so I am only angry at the short rows! ;)
I'm more critical this time, laying it out very often to take a look if it still looks okay, and taking care to rip out even slightly disappointing areas straight away. I've grown stubborn now, I want this to work!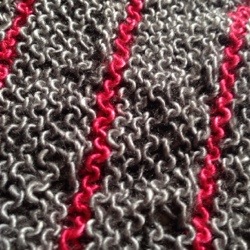 In the meantime, I've learned a lot about short rows. What happens when you increase on every row, every second row, every fourth row, etc. – and how many stitches it takes between the turns for it to come out exactly right. Also, I've been able to test out some finishing ideas, so that the edges look amazing. This is going to turn out great, I just know it!
I've been working on this shawl for 1 1/2 months now. I have a deadline at the end of the month – so it will be 2 months of learning. I've been swearing and shouting at it, but I'm still happy to knit! And I am very proud of my own patience :D
I will be posting about this shawl once I'm done. Just watch me.