Mellow WIP
In the Copenhagen Knitters group on Ravelry, there were a couple of people who started a knit-a-long (KAL); the Mellow sweater by Pickles.
On impulse, I decided to join! And not only that – I decided to spin the yarn for it, or at least half of the yarn for it. My idea was to spin the two braids I had of "His Eyes" on Merino from Northbound Knitting, and combine it with some Drops lace I had in the stash.
So spinning I went: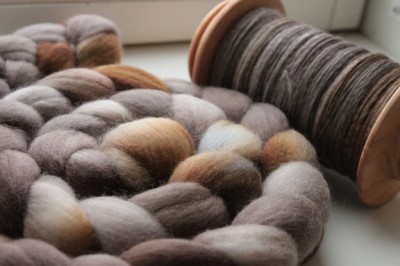 I was very satisfied by this single ply yarn, it's so soft and nice and I love the colors playing!
I had to make a swatch to find out whether I wanted to use one or two strands of the Drops lace: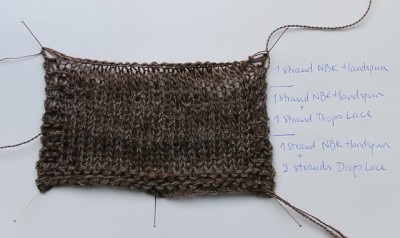 I decided on the one strand of each, as two strands drowned out the handspun a bit, and only handspun seemed a bit too weak. So a single strand of lace makes the yarn a little bit heavier, and it will also keep the fabric together a bit.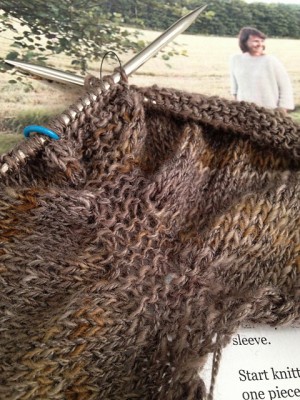 Casting on, I must admit that I'm not a big fan of the way this pattern is written. It's not written very clearly, and it needs adjustment from the knitter's side. The sweater design is fairly simple, but the pattern is not the easiest to understand :( Too bad, as it wouldn't need much to be improved!
It says in the pattern that it is a raglan construction, but it is really done exactly like a contiguous shoulder construction. I do love that method :)
Let's see how this garment turns out!