Mordor
In my last post, I introduced Mordor – a shawl designed by Ann Lundblad, and part of the KAL in the Northbound Knitting group on Ravelry. (Okay, that's a lot of links!)
Well, now I'm done, and the shawl is blocked, and my sweet friend Randi volunteered to act as photographer yesterday. She did an absolutely awesome job!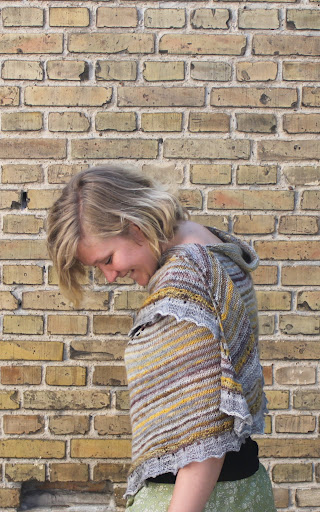 I find this yarn perfect for this shawl. It's slightly variegated, though still with long enough color repeats to make it flow quietly from one color to another. Great job on that, me! :D
And the two colorways complement each other perfectly. That's all Lisa's doing ;)
I used most of the yarn, though not all. On my Rav project page you can see how much, and also how much I used for the edging. Thinking that would be nice to know for the next time – 'cause this is one project very much worth repeating!
My Ravelry project page, also with more photos: Colonel Mustard With The Dagger wants to rule them all