Mordor in progress
In London the Olympics are currently the big thing – and so they are on Ravelry. Formerly known as Ravelympics (loooong story, let me know if you want it!), the Ravellenic Games is basically a collection of KAL's (knitalongs) with some common themes.
I must admit I was a bit lazy, and way more focused on TdF this year. Both events being pretty complicated (rule wise), I didn't have the energy to figure yet another big event out. So I just went along when it turned out that one of the groups I'm very active in, Northbound Knitting, announced a KAL that is a modified version of RG. Really because we didn't sign up for RG on time, as the deadline was set hopelessly early. But it's so much simpler!
The only rules are that our project(s) have some kind of affiliation with NBK – that is, either NBK yarn or fiber (spun into yarn), or an NBK pattern, and that we participate in the KAL actively.
So, I am knitting Mordor, a shawl by (one of our forum stars!) Ann Lundblad. And for that I'm using the very first NBK product I had – the fiber club installment from April this year, regular club as well as semisolid.
These two braids:
Became pretty yarns, that are getting even prettier knit up: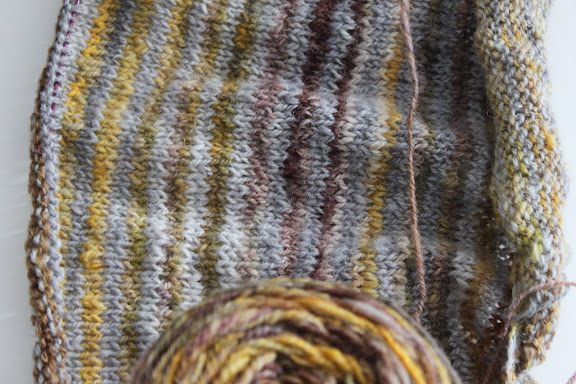 I've gotten further than this now, and it's like it just keeps on going. I'm wondering whether that's because I have more yarn than called for? It's fun (me love stripes!)!