New Design: Aileron
It's live! It has been for a little week now. The launch frenzy and everything around it made me so busy that I have had to postpone some things in order to make room for this!
First of all, a presentation of the pattern. Then everyone who wants to know more can read my following rambling about how crazy this process went ;)
Aileron is a garter stitch shawl in 2 gorgeous colors of the amazing Juno Fibre Arts Milly Sleek Singles (a 70/30 Merino/Silk singles yarn, 400m/100g). The yarn will be released at Unwind Brighton in July this year.
The shawl is started with a triangle in garter stitch, worked with short rows – then short rows shape the crescent shape, finishing it off with a neat icord edge.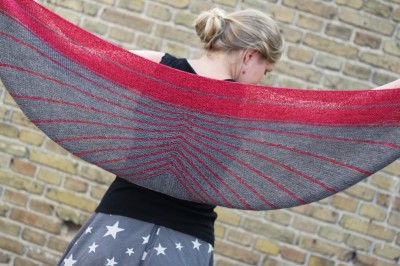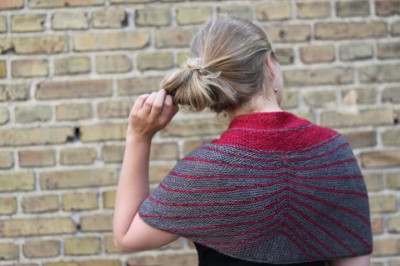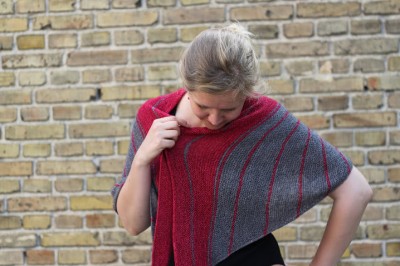 ~~~~~
This is how it went:
I was approached by Asti of Juno Fibre Arts, asking if I wanted to create a design for a new line of yarn. I had this idea in my head already, and thought it would be perfect for this yarn – so we agreed to work on it and then launch everything around the Unwind Brighton knitting festival (in Brighton, England on July 12-13 this year).
When Dani (Unwind organizer) announced the Unwind Brighton Design Competition, it was decided that this shawl could be an entry in that. I mean, I had been working on it for a while already, so it should be entirely possible to get it finished in time, right?
A couple of weeks ago I posted about this design process being first and foremost a learning process. Yeah, it was about this shawl!
Working really really hard to finish, I actually got it done just in time for the submission deadline.
It didn't make it to the final shortlist for voting (but another of my designs did, watch this space!), but I was asked if it could be published as part of the official Unwind Brighton KALs. Ha! That meant, actually… Having it ready for publish within a couple of days!
The process has been crazy. Working with Asti and our tech editor / project leader A Playful Day, we actually managed to get it out there on the specified day and time. I'm so proud!
Now it's there for all of you to enjoy. There's a discount on the pattern price until after Unwind Brighton (until July 14th), only $3 instead of the regular price of $5. So go ahead, get the pattern and start knitting!
Oh, and there's a giveaway of a yarn & pattern kit as well, come join!
On the Playful Blog there is a giveaway of the pattern. (hurry up, this one is closing tomorrow!)