New design: Biased Stripes
About 1 1/2 week ago I published a new free pattern: Biased Stripes.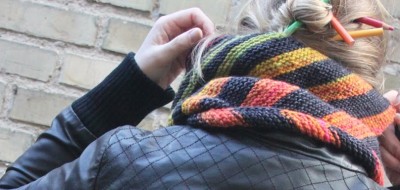 The inspiration for this design came up when I wanted to knit something using a handspun batt. I had bought some of the so called "Batt Droppings" from nunoco, batts made of the left overs from creating other batts. I got no idea what the contents of this batt were, but it had a slight sparkle in it and it was so so pretty!
I spun this up to an approximately DK weight yarn, 149 meters on 51 grams. I kept the gradient, as I am a sucker for gradients ;)
And then, well.. the thinking of what to use it for!
There was so little of it, so I decided it had to be striped with something. I pulled out yarns in the same weight in several neutral colors: Black, dark grey, lighter grey, natural… Each gave a very different effect.
I chose to use the Squoosh Ultra DK in the color "Raven", which I think complements the brightly colored gradient very well. Using approximately as much of that as I had of the handspun, I thought I could pull it off to make a simple cowl with stripes.
Result: A cowl in squishy garter stitch, worked flat on the bias, with i-cord edges that hide the yarn carried along the side. A minimum of ends to weave in, and still the yarn changes are invisible!
This cowl presents so many different opportunities, using yarns in different colors. It's possible to use two gradients, two (semi)solids, a lot of left overs (though that would mean more ends to weave in…), or any combination of that all.
In the pattern, I included a photo tutorial for how to switch colors and how to carry the non-active yarn invisibly along the side.
I hope you like it, and I'm so very much looking forward to seeing lots of other versions!
The pattern can be downloaded for free right here: Biased Stripes
The Ravelry pattern page can be found here.
Another little note: this is by far the pattern that (apart from My Favorite Color) has gotten most attention! Within the first 24 hours, it was downloaded more than 300 times. In perspective, the max number of downloads I've had in one day was about 35, of one pattern about 25. I must have done something right!