New design: Mom's Socks
At it again – this time I've "just" written up the pattern for the socks I made my mom for her birthday! I got a lot of comments on them, and was thinking I could just as well make it available for the public. Hurray extensive notes!
So now it is :)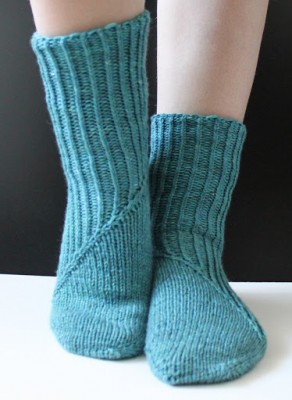 These toe-up socks feature a stockinette toe, with a twisted rib gradually taking over. On the back, where the lines separating the twisted rib from the stockinette meet, a little cable is added to make the join a bit more interesting.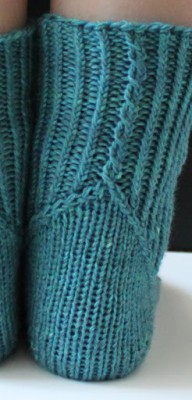 They are done in a mix of two fingering weight yarns held together, perfect for using up some of those single skeins you have lying around! If you would rather work with one yarn, using a DK weight will give the same yarn weight.
A short row heel is described in the pattern, but if you are an experienced sock kntiter you can substitute any heel you prefer. One of my testers did a heel flap instead, and her socks turned out beautiful as well!
They are designed to be comfortably worked up 2AAT (two-at-a-time) on circular needles – so if you've never done this before, it is an excellent pattern to start with. Instructions are not provided in the pattern, but googling the technique and then just following the instructions for the cast on and beginning increases twice, it is not at all hard.
A big thanks to my test knitters for being fantastic in discovering errors and finishing the test knit quickly!
More of the practival details on these socks can be found on the Ravelry pattern page (where you also can see all the great socks already finished!) – you can also buy the pattern there.