Oma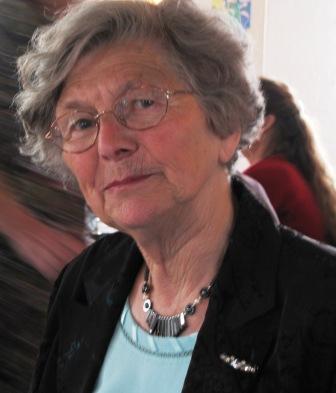 My grandma died a couple of weeks ago.
It didn't come as a complete surprise – she hadn't been ill or anything, but over the past years she had become older and older and grew tired. She had had a couple of minor strokes, and was getting less eager to go out on her own or on longer trips, as she was afraid it would happen again.
That is just a vague image I have of her, though. I remember her as vibrant, always in a good mood, always creative, always chatty. She was curious, like I am, wanted to know everything, always discussing things. She took care of everyone, all the time.
When I was staying at my grandparents' house, I was spoiled. The things I liked best were always in stock, sleeping in was great, and when I finally got out of bed the table was set and Oma would come and sit with me at the table, drinking a cup of tea, all the while chatting about the latest news. She would always stand at the great living room window, waving when you arrived and waving as you left again.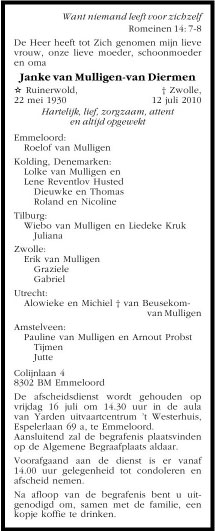 As my dad said in his speech at the funeral: Oma was the only one I knew who could cook dinner, all the while going to the store to get some groceries, and even having time to stop on the way to have a cup of coffee with a friend.
Talk about a multitasking queen!
Her funeral (held the 16th of July) was huge. She wanted it to be held in a smaller space than the church, as she didn't want the room to look empty. She shouldn't have been worrying, 'cause the room with space for about 150 people was filled to the top. There were brought extra chairs in, and there even were people who had to stand at the door or sit in the lobby. She was loved by many. Not surprising, as she has been doing a lot of charity work for many years. And, she just was very lovable!
Lieve Oma, you are greatly missed.