Parabola in agony
That pattern I so much wanted to get hold of? Which I got in a blog giveaway and swatched for right away? I've gotten about halfways.
I finished the bottom layer, blocked it and grafted the sides together, as stated in the pattern. Everything matched. And then I tried it on… And the shoulder pieces were far too long!
Arm holes stretched to about my middle. And that's not how I wanted it :(
So I put it in the corner, thinking it should be ashamed! And thinking how to solve it.
I thought of many scenarios, but ended up with the one that seemed the least work – if I could make it look good! Snipping a thread, unravelling a part of the knitted strap, then kitchener stitching it together again.
I spent a looooong time measuring and trying it on and hoping I was right about my calculations!
Finally I ended up with this: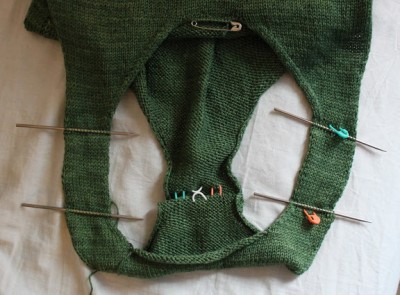 Which is: the whole straight piece on each strap, and about 6cm on the racerback.
Putting in those knitting needles was a precaution – I thought that putting them there and then unravelling the piece inbetween would give me a bit more control!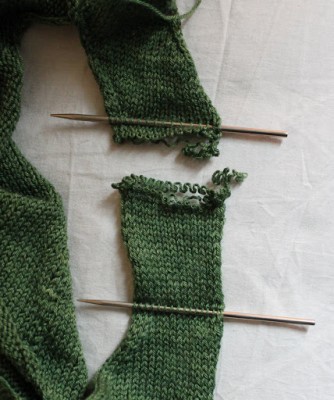 It was kind of scary..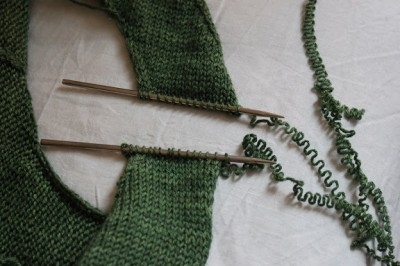 But it worked!!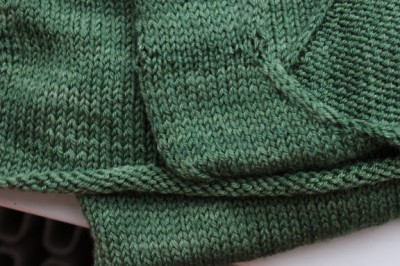 Of course I can see where I grafted the pieces together again, but I hope others don't see it easily. Plus – at least on the shoulder straps, the top layer will be on top of it :)
Now I just need to finish the top layer. I remember now why I'm not that fond of lace knitting on bigger needles – it is easier to make mistakes when I'm knitting blind! I hope to be able to show you more soon though (once I've finished all the test knits I'm doing)!