Roadtrip reading
Over the past 3+ weeks, I've been on a roadtrip with some friends in the States. Those friends are kind of bookish (and, to be honest, really so am I!), so the trip involved a lot of reading – as a relaxing method, but also to make the time on the long drives go by! I brought knitting as well, and luckily I've taught myself to knit simple stuff and read at the same time, so I was quite happy ;)
I actually got to read 5 books.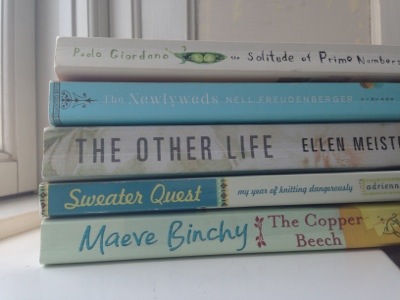 The first one, "The Copper Beech" by Maeve Binchy, I brought from home. It was nice, heart warming, and interesting :) A story about different people in a tiny Irish town, following them from childhood to adult life. Worth a read!
Then I started buying books, as I kind of got scared I would run out of things to read!
The next one I read was "Sweater Quest – my year of knitting dangerously" by Adrienne Martini. It should be a novel about her knitting a specific cardigan, which should be hard to make, and where there are all kinds of challenges.. For instance the book in which the pattern is featured is out of print, and the yarn called for is no longer available. My expectations were set kind of high, so I was really disappointed that the book (in my opinion) basically is a critizism of the designer, intermixed with "name dropping" (= interviews with people that are known in the knitting world). It's perhaps harsh to say it like that, but that was how I perceived it :(
The third book, "The Other Life" by Ellen Meister, was about a woman who has two lives, happening simultaneously – and she finds out how she can switch between them. The two lives appeared when she made a specific choice, and thus there is the potential for more lives running parallel with the ones already there. Interesting, heart breaking, and a little bit complicated! I enjoyed that read.
The fourth book I read was "The Newlyweds" by Nell Freudenberger. The book is about a woman from Bangladesh, who meets her husband-to-be, and American living in the States, via the internet. It is described how different her life suddenly becomes, and how she re-experiences things when she comes back to Bangladesh for a short visit. It shows a view into another culture, how it can clash with other cultures, and gives an idea of how quickly people can adapt to a new environment. I loved it!
The final book is "The Solitude of Prime Numbers" by Paolo Giordano. It's a story about two people, both not really "normal", how they feel separate from the world and how they find each other. It's not a "happy ending" kind of story, but it does give an insight into how some people might feel – and that it is not at all wrong to be different from the norm.
They were all about people that went through some development of sorts – I guess that is a mood I am in at the moment? No fancy stories where a lot happens, just tales about some people and how they live and feel. I wonder what my next book is going to be…