TDF Day 5-6
Another couple of days of TDF have went by – and my oh my, how time flies!
It feels like I don't have time to spin at all. Wednesday (Day 5) I was out all evening, so I had brought my spindle – to great entertainment of my friends. Glad to be pleasing people by doing so simple a thing!
I didn't get much spun though. This is the progress I made during the evening: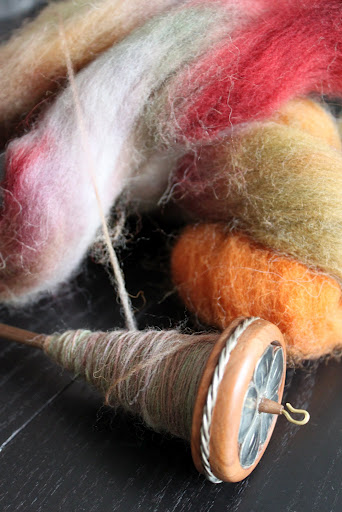 That's Cheviot from Northboundknitting, colorway "In Due Time". On my 24g Golding silver inlaid cherry blossom spindle. It's soooooo easy to spin, much easier than the merino and merino/silk I've started with. The staple length of this wool is much longer, so it kind of "grips" into itself. It's also coarser though, and the Fleece & Fiber Sourcebook writes that Cheviot wool is best used on outer garments or rough blankets. Nice to know!
Day 6 didn't give me much spinning time either, as I went out to eat with my dad. I did get a bit of BFL spun for my 3-ply project:
Still, Northboundknitting "Stonehenge" on mixed BFL. That's about 3/4 of the braid right there, so not much left until I'm done with that! Then there's only about 1/2 a braid of Hilltopcloud BFL/Alpaca/Seacell left, I hope I can ply it all together on Sunday :)