Woven
I have been talking about buying a loom for some time now – each time I went to the States, I was thinking that now would be the time, as they are much cheaper there, but every time I changed my mind (thinking: "I don't really need a loom, do I?").
For my birthday, one of my dear friends gave me a bit of money towards a loom, and the promise to make sure it made it home to me. No excuse not to order it, right?
And during the past week, it came!
A Schacht Cricket Rigid Heddle loom, 15″ in width. It's big enough to make something usable, but not too big for my tiny apartment.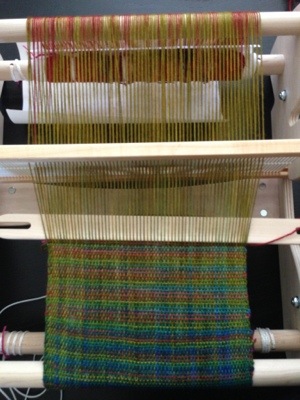 Now I'm a weaver :D
I can't stop thinking of projects to do. Weaving is fun, yarn behaves differently, and it is another way of creating patterns with variegated and hand dyed yarns.
I mean – you have this yarn, which perhaps is a bit too busy by itself: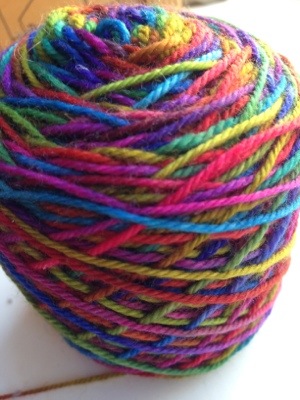 You play around with it a bit, cutting it in specific lengths, and end up warping the loom like this: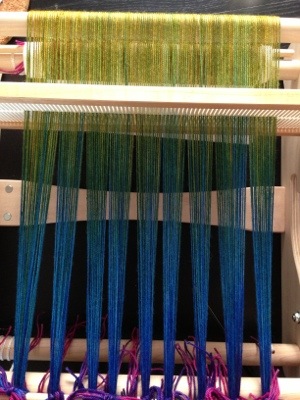 Which, when woven (with the same yarn) turns out like this: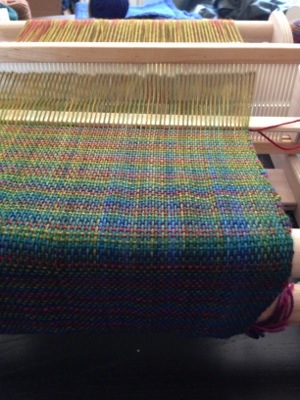 Colors changing slightly, yet still a happy confetti-like patterning. I love it!
I've woven some other things during the past days, small pieces which I hope to use for something sewn, as they aren't really usable on their own.